Orange Juice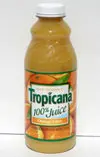 Orange juice is juice from oranges. Freshly squeezed orange juice is the best juice for making mixed drinks.

For more convenience, orange juice can be purchased at several stores. They can be found frozen concentrated, canned or in a bottle. In addition, they come with pulp, some pulp or no pulp.

Always use 100% pure and natural juice for the best tasting cocktails.
Ingredient Information
Type: Mixer
Related Ingredient to Orange Juice